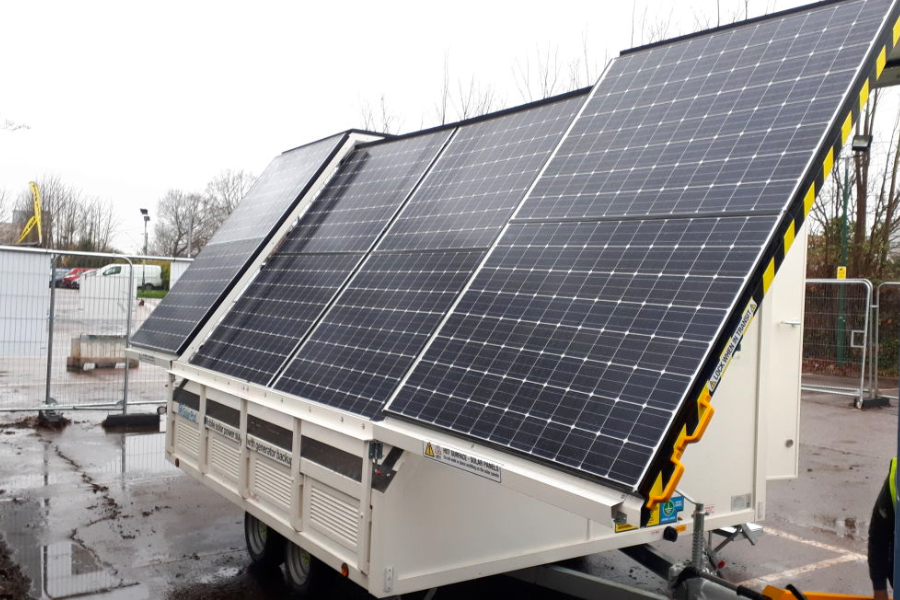 Hybrid power hire provides you with the best renewable energy sources for backup generators that help provide a solution to many different problems. It is a combination that promotes portable energy, and a bedrock of stability for a whole host of locations, situations, and project needs, whatever the conditions you face. If you need a temporary power source, either for location needs or as a backup, solar hybrid generators could be the perfect solution for you. 
What is a hybrid power generator?
A hybrid power generator is a self-contained unit that has a power inverter and battery bank within it. It provides a robust and flexible option for a power solution in a wide range of applications and situations. You have the ability to connect your hybrid power generator to a solar panel system, wind turbine system, or other renewable energy sources. The battery bank will store the renewable energy for use at a later date when you need it the most. As it is a hybrid generator, it also allows for connection with diesel or petrol generators for combined storage and power generation.
There are many different business types that require the use of a hybrid power generator for hire, including the construction and engineering trade, utility companies, and any company that works within a sector where they might need access to temporary or backup power. This could be due to the emergency nature of the work at hand, or the location that they find themselves working, where there might not be access to the national grid with ease.
The benefits of hybrid power
Some of the benefits of hybrid power hire include:
Flexibility and scalable
–
Hybrid power ensures that you have access to alternative power sources even if one side of the options is not currently available. As a backup generator or for a site generator, this is important, as without power you could suffer massive disruption. It also means that you can scale as and when you need to, hiring further portable generators if needed. 
Reliability is key
–
Every project and site require reliability to be a central part of the process. A hybrid backup generator hire gives you that flexibility and safety net that in the worst case, you still have access to power. 
A renewable option
–
You don't always need to use traditional fossil fuels to power your site forward. Renewable energy has improved significantly over recent years and with solar hybrid generators you can maximize the chances of success on site, utilizing clean, renewable energy as you do so.
If you need hybrid power hire for your business or current project, think about who your hire supplier should be. Access to the best hybrid generators and the latest models should also be discussed alongside maintenance and repair, delivery options, as well as training, and the chance to lean on the expertise of the supplier. With that in mind, your choice of hire company should be the best you can find, with experience in the game of solar hire. You can see the power and flexibility that hybrid generators bring to a site or project, in myriad industries. Ensure you make the right choice of a rental when you next need access to this type of power source.